#4 NIGHT CIRCUS (YOU'RE NOT HERE)
There comes a time in the lives of many men and women when the job they do requires international travel. It's a weird thing. On one level it makes you feel important. Someone else is paying for the trip, often allowing you to travel Business Class or even First. There is the assumption that your contribution to the meeting or conference you are attending somehow matters. Of course, this assumption is wrong and the sense of self-importance a dangerous drug. When in reality you are probably leaving behind what is truly most important in your life – children, spouse, home – for these rather fake adventures.
This song is my musical equivalent of the movie Lost In Translation. It features a young man who finds himself on a business trip to Tokyo. Between the flying, the booze, the surroundings, the time shift, there's no chance for sleep. So he finds himself wandering between the bars of Shinjuku in the early hours of the morning.
I feel the wind – I feel it blowing – but where it goes is never really clear – I let it take me without knowing 'cause you're not here.
The feeling is not one of adventure or fun. It is one of loneliness. A realization that "you're not here." Whoever you are.
Life holds a card – and it must deal it – I hold my breath and taste the edge of fear.
The miles from home become, as they often do, a separation that goes deeper than distance. There is a sense of being a different person. There is a sense that, whatever happens, it is outside of normal life. And the kid-in-the-candy-store temptations abound.
The night is long – but has no reason – the redhead asks do I want another beer.
Remember when the amazingly talented Warren Zevon sang, "I went home with the waitress, the way I always do." Well, the truth is it seldom happens (although I don't doubt it happened for Warren!). These women and men are just doing a job…serving drinks, food…and secretly hoping they have worked their way through the evening's supply of drunken businessmen who find themselves blown by a wind they neither understand nor seek to.
My darker side is talking treason 'cause you're not here.
There's always the what if. Always the sense of detachment, of false freedom, that means anything can be excused, kept secret, accepted. We all have darker sides…we all like the idea of a taste of adventure even if we already know it will leave a very different taste afterwards.
My dear friend, actor Keith Szarabajka, provided the spoken voice:
The lights of Tokyo burn like acid in the back of your eyes and you realize this is home for the homeless. And for a short while…you are one of them.
Not quite the voice of sanity and reason but, perhaps, the voice in your head that recognizes reality. Home for the homeless…a fitting description of all the bar areas in all the major cities of the world where disconnected business travels and some forlorn tourists find themselves on sleepless nights. But is there hope in those words, "For a short time"?
The song does not progress. The verse is repeated. There is another offer of more beer. There is the recognition of the darker side surfacing…but also the knowledge that it is talking treason.
Fade to black.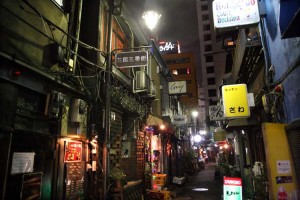 The bars of Shinjuku, Tokyo.
For a long time this song was called You're Not Here. But as we layered the crazy honky-tonk piano playing of Peter Farrell over my multiple acoustic guitar parts and then the indefinable, cross-cultural percussion provided by Jacy Oliver the concept of a circus came into my head…and it ended up being renamed Night Circus, keeping the original title in parenthesis. When I settle in a new home after we leave Santa Fe (timing still uncertain) I plan to get a little band together of older guys like me so I can perform live more often. If I'm successful, we will perform as Dave Tutin & Night Circus. So the song title may have a second life.