THE NEW CD IS AVAILABLE.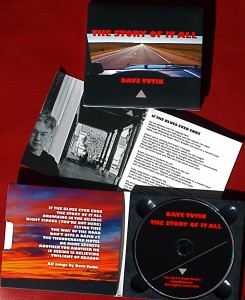 (click to enlarge)
The website is almost updated and copies are with cdbaby etc and will soon be available. But if anyone would like an early, signed copy please email me at mail@davetutin.com with your shipping address. I'll send you the CD and trust you to return a check to me for $12 once you receive it. Or make a PayPal payment. Please add $3 for US domestic shipping or $9 for worldwide.
Here's a little background to this album:
THE STORY OF THE STORY OF IT ALL.
Work started on this album a little over four years ago. That was when I met Jacy Oliver. Jacy is an amazingly gifted guitar player here in Santa Fe, New Mexico. His style of music is so far removed from mine you'd be forgiven for thinking we had nothing in common. He's also less than half my age. But working with musicians who could bring something fresh to my songs has always excited me. The singer-songwriter genre is wonderful in that respect: there are no rules. A few expectations perhaps, but no rules.
To test this new collaboration we worked on one song. I won't say which one, as I want you to enjoy The Story Of It All as the cohesive album it became. There was no talk of an album, just the one song. But based on our mutual liking for the sound we made the project quickly grew. Songs were recorded…some rejected…some added at almost the last minute. Jacy quickly expanded his role from guitarist to producer (multi-instrumentalist and backing vocalist).
I have often been described as prolific, a term I view with great skepticism as I think it means simply that you churn out a lot of stuff. With that caveat in place, it's true I write a lot of songs. As work continued on what would become The Story Of It All, I found myself with several songs that did not fit. Songs that seemed to want to be treated a little differently. So in parallel to working with Jacy, I tempted my long-time friend and keyboard wizard Peter Farrell into co-producing a second project that became JanuaryRising. For all sorts of reasons this CD was ready first even though it was started later and was released in 2013. In Broken Sleep, a song from this album won Best Song in the Americana category of the New Mexico Music Awards. It also picked up Best Packaging – which I have to credit to my many years in the advertising business, working with great designers and photographers. Some of it rubbed off I guess. That and the fact that since way back in the days of vinyl LPs I have loved the design element to presenting music. Remember those great album sleeves? I think we lost something of immense value when music became insubstantial downloads. When I accepted the award I joked that this might be the last time anyone won it, as it already felt anachronistic. It wasn't really a joke.
Back to The Story Of It All. The more we worked together, Jacy and I realized that we really wanted to try to push the singer-songwriter genre into some spaces it had seldom, if ever, been pushed. But we also realized that not every song could be a massive experiment. It still had to be a Dave Tutin album after all – whatever that is. If it no longer reflected me…if the music stopped serving the words…then why bother? But as songs presented themselves during the process, we knew the ones that had the potential to go into uncharted waters. I hesitated to even play for Jacy a song I'd written called Twilight Of Reason. In it I tackled the supremely difficult subject matter of my late mother's Alzheimer's Disease. This song represented multiple challenges. It was written from my mother's point of view for one thing…and certain lines just did not sound right coming from me. So I asked Deborah Domanski to sing it with me (Deborah is featured on JanuaryRising as well as on my earlier album Beneath a Flagless Moon). Then I explained to Jacy that I didn't want either of us to be the "lead" singer but to have the lyric flow between us seamlessly to capture the idea that even though much of it is from my mother's point of view it is still me, the writer, in there commenting on what I saw. I also said to him that I had witnessed the anger that is part of this terrible disease, as if the sufferer knows there is something wrong but can do little about it and that I wanted the music to capture that anger in some way, not be sentimental. Jacy understood. And the song became the first of our musical experiments. Listening to the final track it's hard to believe it was written on an acoustic guitar and could easily have been little more than a folk song stylistically!
Across the four years we worked together the shape and sound of this album came into clearer view. Songs were left off…I'm sure they will surface one day…and I wrote a couple of late entries that were inspired by songs we'd already completed. These were songs I felt filled gaps in a backstory that probably only I was aware of. The very last song I wrote was The Story Of It All. And the album, which had had several working titles, now could only be called one thing.
I think even Jacy would agree that he grew as both a producer and a guitarist during the process. I certainly learned a vast amount from him. Jacy has a poster which says, "Lyrics: wasted time between solos." I'm not sure he believes that any more. And I have a new respect for how orchestral the electric guitar can be while still feeling rooted in the blues.
Peter Farrell completed all his keyboard parts for this album in my studio in Santa Fe before we started on JanuaryRising – much of which was recorded at Forge Recording in Philadelphia, which helped give the albums a different sound. A couple of songs on The Story Of It All would not have worked as well as they do without Peter being totally on board with our idea of pushing the songs in unexpected ways. The atmospheric Another Me Another You is a perfect example.
Drumming duties were shared between Mark Clark and Ben Durfee. Jacy and I chose which drummer would play on which songs based on the songs themselves. I think we chose well, as the end result is far less schizophrenic than you might expect given the different styles of Ben and Mark. On three songs the percussion was played and programed by Jacy.
Bass guitar on all but one song is played by Jacy…I played bass on the title track. Actually there might be two bass parts on that track with us both playing!
All electric guitars are by Jacy, all acoustic guitars including some Dobro are by me. I think I squeezed in a little harmonica too. Both Jacy and I added some little keyboard parts on top of what Peter had already done.
Jacy mixed and mastered the whole deal…showing endless calm with the nit-picking voice over his shoulder!
The Story Of It All deserves its title as it begins with an early memory of the impact music had on my life. (Well, at least the kind of music that would stay with me all these years. I grew up surrounded by the pop music of the early 60s but then through Dylan, Clapton and others worked back to their blues influences.) And it ends with me witnessing my mother's gradual loss of the priceless gift of memory…the gift a writer like me relies on to fuel everything I do. It makes some stops at life-changing moments and lessons big or small along the way. But, of course, the title will always be an exaggeration…no one collection of songs can ever capture it all. I had to save something for the songs not yet written…
All the best for 2015 everyone. I hope your new year is filled with hope and music.